Amber McCloud joined Redmond School DIstrict in the fall of 2015 as the District Pre-K/Kindergarten Transition Coordinator. Amber's position is funded by federal grant dollars and has been incredibly valuable in assisting all of the district's pre-kindergarten and kindergarten teachers. She takes on many tasks in her roles, like helping teachers create lesson plans, providing relief time so teachers can attend workshops and by fostering and facilitating collaboration among teachers between the district's seven elementary schools. She also aides teachers who may need additional assistance with lesson plans for struggling students.
How long have you worked for RSD 
& what did you do before coming here?
This is my first year with Redmond School District.  Before coming to RSD, I worked as a primary teacher in Hillsboro School District for Farmington View Elementary.  It is small school with one teacher per grade level.  I taught kindergarten, third grade and a 2/3 split.  I loved that I had the opportunity to teach my students as kindergarteners as well as third graders.  The school was surrounded by country fields and vineyards.  Prior to teaching at Farmington View I taught 2nd grade at West Union.
What do you find most rewarding about your job?
I love having the opportunity to support the teachers in the district with any need they might have.  The type of support I provide to each teacher varies, which keeps me very active.  It's been great getting to know them, being able to help out, listen to their concerns and work with their wonderful students. It is also nice forming relationships with such amazing educators throughout the district. They work so hard to meet their students' needs and care so much for all their students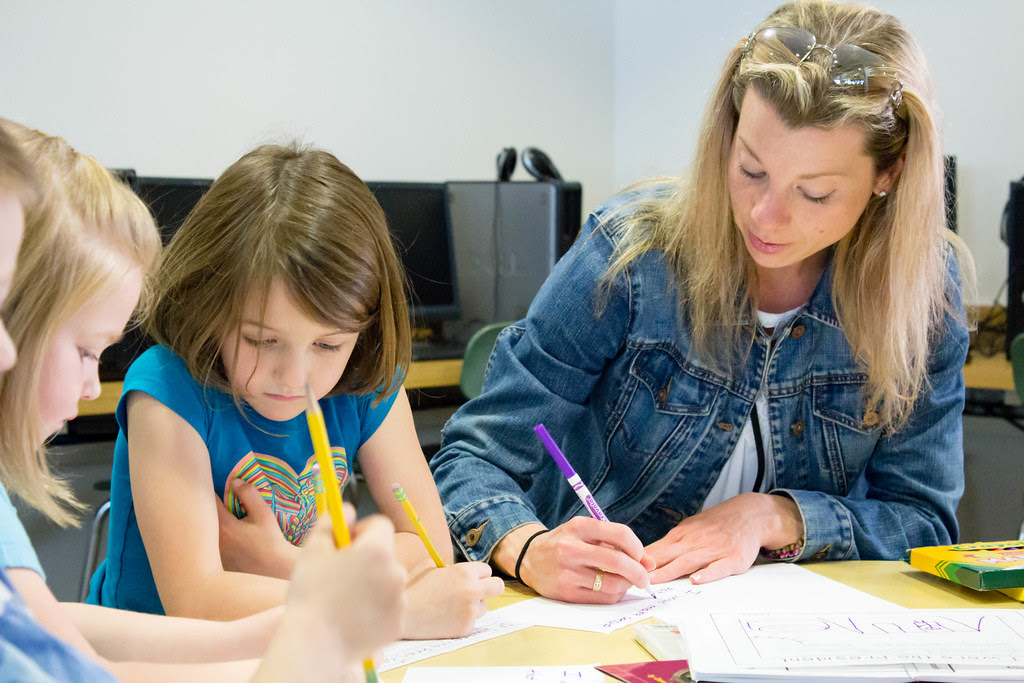 What persuaded you to work in education?
I came from a family of educators and enjoyed listening to "teacher talk" in the evenings when eating dinner with the family.  I would play school when I was younger and set up all my stuffed animals to be my students.  Although this is what I enjoyed I didn't originally start in education.  I first began my educational journey in nursing school. While I was in nursing school I began working at a preschool. Within a month of working I was asked to be the lead teacher and enjoyed it so much I decided to change majors.  I quickly applied to the school of education and here I am today!
Is there anything else that you'd like to share?
I am new to the community but I feel so welcomed.  RSD is a wonderful district to work for.  I feel that our district truly cares for every student that steps into their schools and is doing whatever it takes for each student to feel and find success.  I feel that we have amazingly strong and knowledgeable leaders that work closely together ensuring that students and employees' needs are met.
We asked a few RSD team members to share their thoughts about working with Amber…
"Amber has been such an incredible support to me this year.  She has been a great resource of experience and ideas when I had tried everything I could think to teach a particular concept and needed some new ideas. The kids and I love having her in our classroom and I appreciate her ability to listen and support while encouraging me and pointing out the great things the kids are doing!"
– Katelyn Dover, John Tuck Elementary Kindergarten Teacher
"Amber is amazing!  Her tireless, behind-the-scenes support is a key ingredient to our success.  She brings a smile to our faces and fresh ideas to the table.
We are lucky to call Amber our teammate."
– Bonnie Randolph, Vern Patrick Elementary Pre-Kindergarten Teacher
"Amber has been quite an asset to our Title 1A Pre-Kindergarten and Kindergarten teams this year!  From planning and facilitating fun family engagement events to coplanning and assisting in classrooms, she has been reliable, flexible, and generous with her time and energy. Her friendly and positive attitude has helped her build relationships with teachers and community partners and increased opportunities to benefit our youngest students.  I'm thankful she joined our team this year and am proud of her accomplishments!"
– Alishia Anderson, District Title IA Coordinator
Thank you, Amber, for your talent and support to our district's kindergarten and pre-kindergarten students!  We're so glad you've chosen to be a part of our team!